Recently, I had the opportunity to decorate for the Ahaana Festival at the Mingei International Museum in Balboa Park in San Diego. The Ahaana collective is a group of passionate women with a mission to bring awareness of South Asian Culture through women artistes and performers. You can read more about Ahaana here (www.Ahaana.org) the festival featured the two core units of Ahaana 'Yoni Ki Baat' and Artiste Focus. I feel very fortunate and privileged to decorate for this special event and meet this incredible group of strong and talented women and listen to their inspiring stories.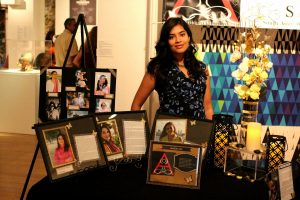 When the founder-directors explained their vision for the event decor, it was clear that they wanted the decor to enhance the spirit, create an ambiance and echo the essence of the festival. It was important to work on a limited budget since Ahaana is a nonprofit initiative and keeping the decor minimal to avoid distraction was major. I embellished/re purposed few decor elements, made $ store purchases and chose a theme that would achieve the goal.
I decorated the foyer table that would showcase the artistes' introduction and stage area where the performers would deliver their powerful monologues. Since the venue itself had many colorful exhibits of folk art and design from all cultures of the world, I chose a black and metallic scheme to set the tone for the event. Black to provide a neutral background to the colorful artistes and Metallics to add glimmer to the show. Black and gold in the Foyer area and Black and Silver near the stage.
To comply with museum policies without compromising on the event styling, I decided to create a small vignette -using subtle artwork -female representation displayed on an easel with some LEDs.
Lights/ butterfly string lights to accentuate and draw attention to the display. I used some faux black roses (Halloween decor) and silver ribbon to DIY chair sashes to cover all the chairs of the performers. In the foyer area, I customized $ store frames with gold matte, washi tapes, craft butterflies to display the photos and bio of each artiste. Another DIY centerpiece with LED pillars, a vase filled with twigs, fake orchids and some painted pebbles completed the decor. Subtle details like the craft butterflies in the stage and foyer areas made it more cohesive by creatively tying it back to the decor theme.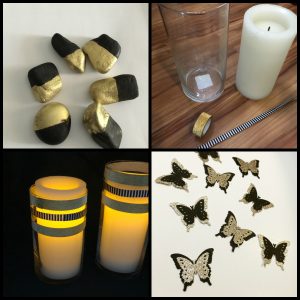 It was indeed an exhilarating and empowering experience to be a part of Ahaana. The poignant, powerful, true life experiences shared by the YKB sisters definitely give new insights and a fresh perspective on life.