I've always had a thing for textured /handmade paper goods.When I came across this gorgeous roll of handmade scrap paper in world market-
I knew I wanted it and for 3$ a roll -it was a score!.I wanted to frame it to expose the rich teal and lime colors and the intricate pattern.I'm sure
many of you might have come across various versions of framed art floating around pinterest from here
and giftwrap art 
and so on……endless possibilities I tell you.So  my inspiration for this project stems from the  idea of framing inexpensive paper to make beautiful art for the home.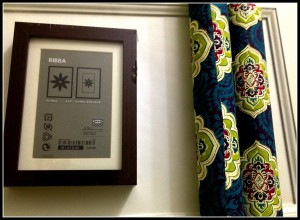 Especially the teal damask with bursts of lime and Fuschia had me at hello!I wanted to use it to as a wall art or display it in some form since I thought the colors would serve as a beautiful accent in my living room.I decided to display it as a collage .I bought four ikea RIBBA frames for 1.99$ each and cut out the pattern from the sheet and popped them into the frames.I was debating between white and brown frames-but I'm so glad-I chose brown-it looks so rich juxtaposed with the teal.Now I have a collage art display for almost 10$.
I'm all ears:-)
I'm linking up this project to the Fall Pinterest Challenge hosted by these fabulous blogs.It's my first time participating in this challenge and I'm thrilled and thankful for the inspiration and opportunity.
Linking up to these amazing projects
DIY chalkboard
from younghouselove bloggers
DIY Dollhouse from Ourfifthhouse blog
Ampersand sign
from the Uglyducklinghouse
Succulent Terrarium from BowerPower blog