Thejas's Transformers party rolling into town….my little boy turned four on July 4th and he wanted a tranformer B'day party this year.He is very much into Superheroes and a huge fan of Optimus Prime and Bumblebee and truly believes that he is going to tranform some day!!!
His tranformer themed party was a huge hit just like his Dinosaur themed 3rd B'day party (read more about it
here)
A tranformer party is not complete without a tranformers Cake also picked up by my son.
Little autobots having  fun in the Jumper….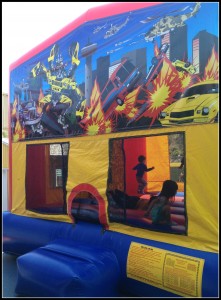 He had a surprise guest at his party,a fellow Superhero -yes SPIDERMAN it was  and he was simply starstruck!!!
Wishing you a very Happy Birthday Theju nanna….you are the best thing that ever happened to us and we love you to heaven and back!!! I can't wait to see what my Superhero picks next year? Time will tell…