Two weekends ago,I was at the art walk event in San Diego at the historic decanter place. It  was an amazing and soulful experience meeting local artists and craftsmen at the exquisite art and craft show. There were over 100 global artists from various art disciplines showcasing their work, handicrafts, art installations,Sculptures etc.
It was an oasis of talent and inspiration .I was awestruck at the beauty and magnificence of the various art forms. It was as though each piece of art with its vivid colors, forms, textures had a story to tell – a visual voice.Sheer brilliance of art and untapped talent. It was a delight to the senses and I was glad I could capture some of the stunning, inspiring pieces to give you a folks a virtual tour of the whole experience.
The event by itself enriched the city's art scene beyond measure.The show had something for everyone, whether you are looking to draw inspiration, or purchasing a piece to enjoy for years to come, or just admire.
I love supporting/meeting local (and not so local) artists and artisans, so I went expecting to meet some talented folks and maybe even snag a piece of art or two.I was so glad to meet the talented artist Peggy Hinaekian- she was so modest and kind ,she spoke about her painting techniques, her source of inspiration. She is an internationally recognized European /American artist living and working in CA. Her paintings in vivid teals and bright orange hues are best described as Red Desertscapes and Blue Reveries.
The carved wooden animals booth was another interesting exhibit. Richard vest-premier wildlife carver holds a special fondness for animals, birds, sealife as demonstrated by the unique style of his work the wood and grain patterns are so rich and enhance the animal's presence.He says the power and essence of the animals comes to life in the wood -the hanging Ape, pair of Seahorses, Giraffes were some of my favorite pieces among others.
MckenzieFisk is one of my favorite oil paint artists, she had one of the coolest booths at the fair,her work is super fun and adorable and mostly comprises of kids and animals captured in beautiful, unexpected ways with a sense of humor. I snagged a cute boy and giraffe painting for my son.
Another favorite stop was the Canvas paintings of Italy -Charming and detailed. You could stand there and study it for hours. It's like I was transported to Italy- my dream vacation place.The paintings were so real and perfectly captured the richness of art, architecture, food and  sublime views that Italy is known for.
The cobblestoned streets
Wine cellar
The Farmers market
The wishing well
Venice Canals
Other  beautiful paintings from the show.
The pictures don't do justice to the actual artwork especially in this Beautiful City and Ocean Photography.
Watercolor paintings that looked so real like actual photographs.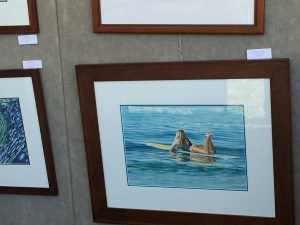 Then there were some fun at heart paintings-getting creative with oil, mixed media, and acrylics.
Origami painting
Oil on canvas art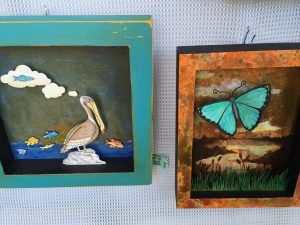 Mixed Media Art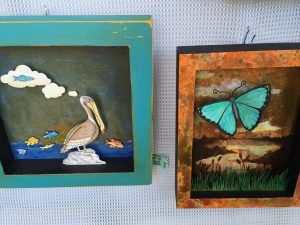 It was a wonderful opportunity to learn about new techniques like Serigraphy. It's a printing technique using screens and ink to highlight only portions of a picture like below-can be used for cool pop art work.
There were some amazing murals made out of tiles and mosaics .The jewel tones appeared like they were illuminating the artwork from within.
There was also lots of jewelry at the fair -unique handcrafted pendants, earrings etc.Fell in love with this Mermaid necklace!
Recycled glass sculptures and stone carved statues
It was a weekend well spent, meeting talented people and you could just feel their passion for what they do. After taking in all the beautiful artwork, though I couldn't afford most of them, I seized the day and took note of some stunning high-end ideas that one could implement and surely felt inspired and I bet you'll feel the same. Don't forget to checkout my Facebook page for more pictures from the show.