Hi all, I have a cheerful and vibrant home featured on the blog today. Thank you so much Bhavana for sharing photos of your place. Folks if you enjoy exploring other people's homes and capturing all the inspiring details as much as I do ,this one's just for you!
Be it the eye catching feature wall treatment or the adorable nook with house plants and the whimsical Buddha ,it shows how Bhavana decorated her place with lot of love and style. I will let her walk you through the home tour. This is what she has to say about her home in her own words.
"Hi, this is Bhavana and I am a person who likes my house to be a home that reflects my sole. I would like my family to be as healthy as greens, bright as orange, cool as blues, peaceful as whites and enlightened as Buddha. The Buddha here is a table fountain and surrounding is my small indoor garden with some real plants and some faux flowers to add color to my garden.
The combination with White sofa and orange background gives the contemporary look. Added two pillows in shades of blue and a blue throw to match the carpet. Diagonal pattern was an experiment that was successful. A fancy wall clock with small mirrors to add beauty to the white part of the wall. It is an apartment with the concept of open kitchen so had to get the Orange done on both opposite walls of the living room for a slight division look from the kitchen.
The white TV stand to match our sofa and those three little mirrors to compliment orange background. The books like box with a lucky bamboo plant on it added a great look to the entire setup. The first place I would look into is the restroom in any place for the Neatness factor. On top of that if it is beautiful with good combinations."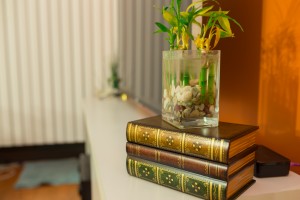 Thank you Bhavana for making the house crashing adventure so much fun!
If you'd like your home or beautiful corners in your home to be featured on the blog, just drop me a mail with some photos of your casa and I'll be glad to feature them. I'm always on the lookout for awesome houses to crash:)