Hello everyone….hope you guys had a rocking weekend!
Today's post is about this nice little dresser/table that I found on craigslist.I have been on a quest for a console /dresser of sorts piece of furniture for my master suite to anchor the wall mounted TV and to hide away the electronics.I didn't want  anything heavy or big that would feel cramped in the narrow space between the bed and the wall-just something that can serve the purpose and was multifunctional. After a few futile attempts at shopping for one that did not break the bank,I was thrilled  when I came across this console originally from Crate and Barrel on craigslist for 20$ .No scratches,no chipping and it was in perfect condition-the only low point was the  color.
Even though I'm not a big fan of the color, I brought it home since I knew I could transform it into something close to my style.Since the original piece was in good shape ,I skipped the sanding/priming  and painted it straight. I chose a soft gray color in satin finish since I didn't want anything too saturated for the space ,also a soft gray would flow with the existing cool blue wall color in my master bedroom.
 All I needed for this project-
a quart of paint -8$
good quality brush and roller
pair of gloves
After removing the hardware and dismantling the lower shelves ,I used a foam roller to roll the paint and followed up with a paintbrush to smoothen the uneven spots and fill in the hard to reach nooks. Just two even coats ,with about five hours drying time between coats did the job  and after 24 hours this is how it turned out.
 It took me a whole weekend to finish what I started as I working on and off during my son's nap time-mostly working in the garage.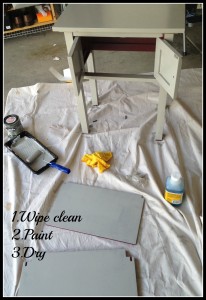 Here it is all clad in satin gray in my blue master suite .I used the IKEA cable management kit to conceal the wiring-it's a temporary fix, until I find a more aesthetic solution. I regret not having a before pic of the space, but you can visualize a tiny table all piled up with electronics and  loose wires and it was nothing short of  visual clutter, I'm happy with my new console table-it's not only light and airy but also has ample storage for my laptop, books,and other electronics.
I only wish it was a little taller to hide the wiring,but never mind I'm thrilled with my temporary fix for less than 30$ ,not bad huh?especially when similar console tables typically cost >100$.The  one below from Home Goods is priced  for 130$-it was slightly taller than mine and had some extra shelving but I didn't find it justify  the 130$ price tag which  is 4 times more than 30$ people!
Are you about to paint a piece of furniture and completely transform it? Do tell.
Psst….Stay tuned for my new series of custom mood boards coming up soon and the first one I'm gonna whip up will be based on a yellow  color scheme.It's for a dear friend and you are free to use it as design inspirtaion for your own space.