It's fall and needless to say bright and warm fall decorations are in order.Personally ,I'm not a big fan of winter  but I love the seasonal feel of warm fall arrangements,the gourds,the autumnal wreaths,the vibrant falling leaves and pretty porch displays.I have to confess,as much as I love having show stopping mantel displays and focal points in my house,I 'd like to keep things simple and inexpensive.
A quick trip to the dollar store and I was all set to make my own thrifty wreath to usher in the season for just under 4$.You can make your own version by swapping some of the items below for other fall ornaments,it's as simple as that!
Supplies:
A bag of Faux Gourds and mini Pumpkins -1$
2 bunches of fall leaves -2$
A twig wreath-1$
Decorative Ribbon-already had
Hot glue gun and scissors
Pinecones from the nearby trees -gathered-free
You can see from the images,that it's very simple,just gather your supplies and go with the flow.It's super easy to make,I just kept gluing the leaves,gourds and pinecones around the wreath and finished the look with a decorative bow .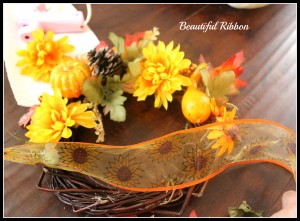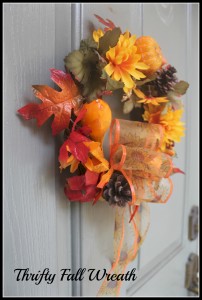 So any Autumn inspiration ideas going on in your homes?Stay tuned for more thrifty DIY Fall projects by subscribing to withheartandverve.