I love the concept of having a mood board for your space and playing around with it until you are content with the way the  room is taking shape before you move on to the next phase . The idea is you can sift through collections of furniture,accessories,decor and color schemes for loads of inspiration and adapt them to your taste .I will continue to add new mood boards built from my own slew of ideas  as well as custom mood boards based on any requests as and when I get them.
So without further ado…..here's my first mood board for a dear friend  of  mine who  had requested me to throw some  pointers to redesign their living  room and yellow was the color inspiration..I had a grand good time whipping up this yellow centered custom mood board based on the wishlist I was given.
Since I was given a free reign to build a room based on some existing parameters from the wishlist , I tossed this moodboard filled with fun and punchy hues of yellow.(Please click on the image for a detailed view).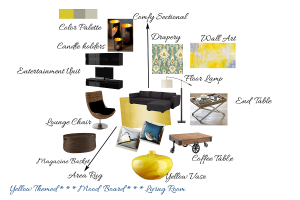 First ,a look at the wishlist
Wishlist:
1.Yellow was the color,yup bright yellow is what my friend likes and wanted for the space,but needed help infusing it into the space
2.Not a big fan of rounds/curves- inclined more towards a contemporary and sleek look
3.Wanted a surprise element
4.Wanted it to feel fresh and timeless
The moodboard:
Yellow can be overwhelming  especially when you use it in a large  space like a living area,but it does look subtle if paired with the right colors,so I based my mood board on  the timeless yellow+grey palette
I was inspired by the combination of cool grays and warm yellow tones and carried these colors throughout the room in the form of accessories and furniture
As for the wall colors,I love

this

color scheme from Benjamin Moore, the chic and punchy yellow and a range of grey tones along with hints of hammered gold. You could amp up the style by adding another hue of turquoise or sea greens like the IKAT fabric ,accent cushions etc.to the mix .The walls could go for a soft grey and use charcoal for an accent wall that will serve as a cool backdrop for a large abstract art.

Yellow was incorporated throughout the space through large Ombre Rug ,the Abstract art in yellow and grey shades and other accessories.

I like how the rug sets the mood for the entire room
I also added some turquoise,silver and green accents for added interest.You can see these colors thrown in there in the form of  accent pillows and drapery fabric
Some natural wood textures like the gorgeous Rustic Coffee table ,the rattan  lounge chair ,and the woven magazine storage basket add a layered look
IKAT has always been on my radar of favorite finds and so I  chose this multi colored IKAT fabric by Robert Allen for the drapes-I'm so smitten by the colors-I like how it complements the color  palette of the entire room ,as you can see all the colors in the room are tied into that one fabric
For the focal point-I love the  abstract Art I found online on Etsy and the Ombre Rug is a wow factor too
The subdued floor lamp will add some ambience and softness to the room without competing with the other strong  elements going on in the space
Source List: